This course is designed to give business owners, website managers and online marketers the basic and advanced tools to successfully manage their online web presence and social media channels in-house. Be in control of your own online e presence and save both time and money while getting your website FOUND online!
Site speed for successful ranking on Google is more important than ever with Google now saying that over 50% of all online searches are conducted on mobile devices such as Android Phones, iPhones, and tablets.
To grow your organic search presence, you need to master your technical SEO requirements and Social Media Channel Management and truly understand search engine processes, crawling, loading, structured data and security. We'll teach you how to implement that knowledge the very next day!
A place on our one day Technical SEO/Social Media Channel Management course is €397 (incl VAT) per day. This includes a catered lunch in a local pub and snack breaks/coffee in the afternoon.
Recent workshops in Bank Of Ireland Montrose Business center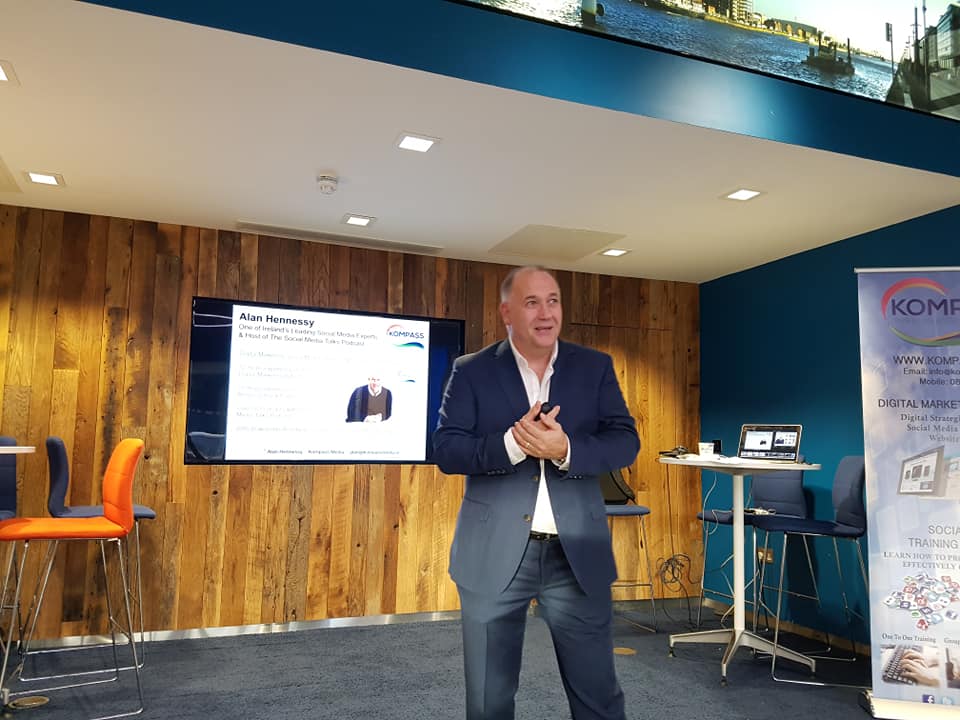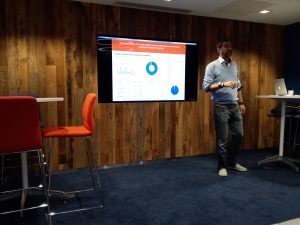 WHAT'S COVERED ON THE DAY?
In this full-day training course, you will start by building your knowledge of search engine processes and its technical workings. You will then learn about crawl optimisation and fixing crawl issues to make search engines' job easier on your site. Next, you'll improve your load speed and optimise your mobile usability for mobile-first indexing.
You will also learn about the importance of having structured data present on your website to increase your visibility and performing security checks to make your website secure.
Your afternoon session will cover the management of Facebook and Twitter as an effective online marketing and awareness tool.
COURSE OUTLINE
Morning Session – SEO
After completing this training, you will be equipped with the knowledge, insight, and vocabulary to deal with technical SEO issues on your site. It will extend and build upon your existing knowledge of keyword research, on-page SEO and link building thus enabling you to rise to the top of search rankings – and get found online!
Module 1: How Search Engines Crawl & And See Your Site
The morning starts by dealing with how the major search engines work, and their main technical elements. You will explore the role that technical SEO plays in the overall SEO organic ranking on Google, Yahoo and Bing and reflect this in your website coding and SEO related elements.
Module 2: Website Components
You will gain a solid understanding of the web's technical components including the way in which Google's search engine algorithm works, client-server architecture and basic SEO/HTML coding principles.
Module 3: Bot Crawl Optimisation
This module covers the importance and key elements of bot crawl optimisation and enables you to identify and fix crawl issues.
Module 4: Page Load Speed & Mobile SEO As An Active Ranking Factor.
Fast websites perform better and rank higher on all the major search engines. We will shows you how to identify page load speed issues and improve your site's speed metrics, as well as optimising for all mobile devices.
Module 5: Schema.Org & Structured Data
In module 5, we'll make your web site content bot/machine-readable and unlock a range of quick wins which will give your organic rankings that much needed boost. We'll explain what structured data is and how it came about, which snippet categories are the most valuable and how to apply them to your site.
Module 6: Site Security & SSL Certificates
Security issues on your site and how you protect incoming visitors also impact on SEO and ranking. We'll show you some key security checks you can perform via free online tools and provide tips to help make your website more secure. We also cover the benefits of having an SSL cert installed on your domain and how it helps sites to rank.
Module 7: Content writing that Google will love
This module covers the key requirements for writing unique, well optimized content for fast and prominent indexing. Again, using FREE online tools, you too can learn how to write great, well written keyword rich content that will rank high on Google.
Module 8: Google Places For Business for local search
Learn how to get the best from your Google Places For Business and optimize it for local search, online reviews and product placement. If you dont currently have a Places page, we will help you to create and manage one and link it to your site!
Afternoon Session – Social Media Channel Management
Learn how to maximize your social media channels and harness the benefits of Facebook & Twitter.
Learn how to maximize your social media channels and harness the benefits of Social Networks.
Module 1: Review of Social Media Platforms and Key Indicators
We will explore the benefits of Social Media Marketing for Branding and Visibility online.
Module 2: Facebook
Creating a strong profile and creating the right type of content that will engage your audience. Advantages of different types of Promotion and advertising on Platform.
Module 3: Twitter
Building your Bio and creating powerful tweets, developing Twitter Lists on Twitter Connecting with influencers, Twitter Chats and Notifications and replies.
Module 4: LinkedIn
Understanding the benefits of LinkedIn, Updating Your Profile Connecting with Industry Leaders and Influencers, LinkedIn Search
LinkedIn Publisher and & Groups and SlideShare Research.
Module 5. Content Creation
Resourcing Good Content, How to create meaningful content that with resonate with your audience.
Module 6. Live Video
How to build a live video strategy
The Five elements of creating a Live Video
How to Remarket your live videos
Module 7. Social Media Tools
Graphics Tools
Content Curation Tools
Listening Tools
Planning and Scheduling Tools
Module 8. Overview of creating a Podcast.
The Power of Podcasting
Key benefits of Podcasting
Marketing and Reaching New Audience with Podcasting
ABOUT YOUR TRAINERS
Martin O' Neill
Martin has over 15 years' experience in all things SEO and online training. He currently manages some of Dublin's biggest trade websites such as Dublin Electricians, Plumbers Dublin, and Garden Rooms Dublin and is a registered lecturer at the Dublin Marketing Institute on their Professional Diploma in Internet Marketing.
Alan Hennessy
Alan is a qualified Digital Marketing Consultant, Podcaster and is also an experienced Trainer, Mentor, Coach, having worked in association with various government initiatives, providing advice and expertise to Start-ups, Entrepreneurs, New Business ventures and organisations and in turn helping them to launch their business with an online presence.
Each attendee will also receive the following items free of charge:
1 hour follow up a telephone consultation with both trainers to discuss the days' material and to implement the improvements identified on the day.
Comprehensive SEO health check which will identify any issues which may be affecting its ranking.
Google Places for Business page optimization.
Mobile usability and site speed report
Facebook Channel audit and recommendations.
Full Powerpoint slides so you can review after course completion.
Full PDF of course material so you can review after course completion.
A limited number of place available, Book your seat today on Eventbrite Click Here 
FURTHER INFORMATION
For additional information about our upcoming SEO & Social Media Masterclass course, please visit our course page to find out more about what you can expect on the day. If you have any questions or queries, please feel free to contact the trainers directly at the contact details below.
Alan Hennessy PH: +353 86 845 9960 | Email: alan@kompassmedia.ie
Martin O'Neill PH: +353 85 823 8132 | Email:martin@acornmedia.info